2019.1.6
XX XXXXX 2019
The component for drawing 2D grid.
The destroying sensor.
2019.1.5
16 April 2019

Editor: The ability to configure favorite types for fast access.
3D engine: Light shafts.
3D engine: Lens flares.
2019.1.4
12 April 2019

Built-in C# scripting has been improved.
C# editor: New commands: Comment Selection, Uncomment Selection, Rename Symbol, Format Document.
C# editor: Better undo/redo support.
Show shortcut keys in tool tips for Ribbon, Quick Access Toolbar.
2019.1.3
9 April 2019
Fix Launcher app.
Settings window: Multiselection support.
The ability to add event handlers on C# scripts.
2019.1.2
1 April 2019
Dumping GPU name to the logs.
The ability to set Rotation by angles.
Context menu items Editor, Settings fixed.
Settings Window: Open By Reference context menu item for Reference button.
2019.1
| | |
| --- | --- |
| 28 March 2019 | |
3.5
26 March 2016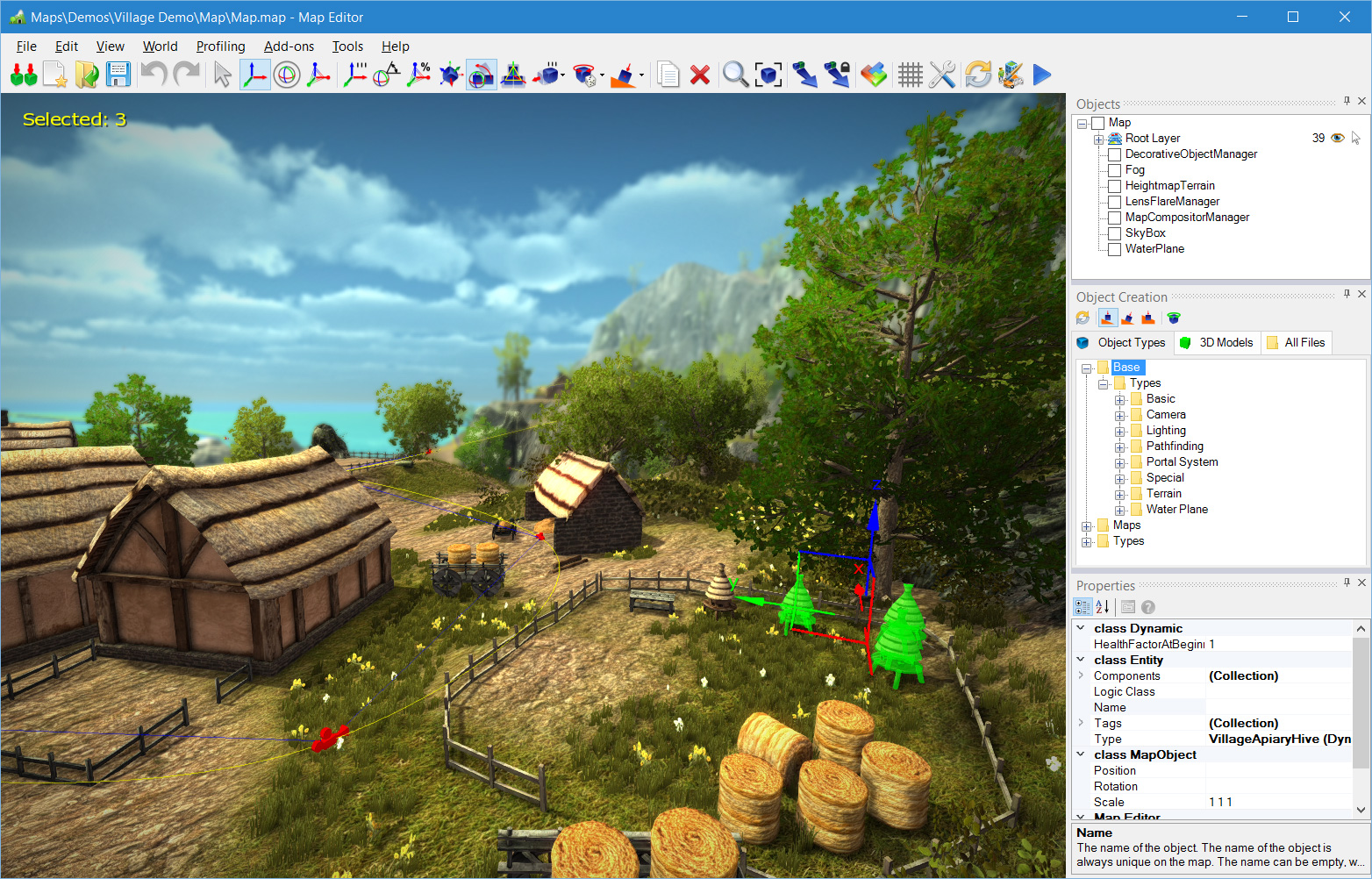 Graphic user interface of the tools has been updated.
A tool to easily import 3D models from a file has been added.
Example maps have been updated.
Freeze Objects Manager has been added. The object is indended to optimize maps with big amount of objects on them. With this object the developer can make some objects on the map freeze to save resources.
Streaming terrain has been improved. Better management of load/unload mechanism.
The ability to skip mip maps during loading textures.
Bug fix: Broken rendering with enabled SoftParticles parameter of the material.
Bug fix: Broken decals on terrain.
Bug fix: Broken export of 3D models from Map Editor to DAE.
~~~
0.3
30 November 2006
The first public release.