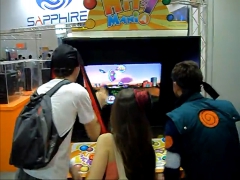 HitMania! is a party game suitable for all ages.
HitMania! is a game with several cartoon/comedy references and funny characters. Each stage has its own unique characteristics and approach. The game mechanics are very simple, the players throw plastic balls at the screen to hit the targets, enemies and complete some tasks. Along with the production, the touchscreen technology was also developed in-house to be used exclusively with the game.
Using all resources offered by NeoAxis, we were able to deliver a refreshing product, with several features unusual to this genre nowdays, as the game sports 3D graphics, high level materials, touchscreen technology and others. NeoAxis' flexibility allowed us to create our own objects, cameras, paths and AI, plus modulated level designs and optimized textures.