NeoAxis Group is pleased to announce that new version of its all-purpose 3D game engine NeoAxis 1.2 was released. New version features numerous enhancements in different areas, including new tools in Map Editor and Resource Editor, extended localization support, ability to directly import new 3D file formats, full support for Intel HD Graphics integrated videocards, new post-processing effects (Depth of Field, God Rays and other), performance optimizations, bug fixes and more. Note that in NeoAxis 1.2 Team License terms have been changed — details below.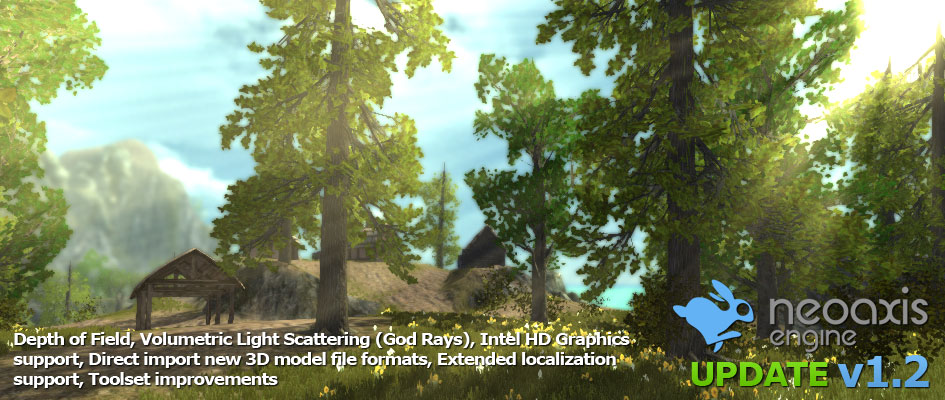 Expanded support for almost all popular 3D file formats simplified the import process of 3D content into the engine. Updated Resource Editor has new built-in tool that supports import of almost all popular 3D file formats, including Collada, 3DS, X, OBJ, partially Blender format and a number of other ones. Collada and X format supports importing of skeletal animation.
NeoAxis 1.2 rendering system received new and exciting features. Depth of Field, Volumetric Light Scattering (God Rays) and Vignetting post-effects will make your environments more vivid and appealing. Post effects now can be set and tweaked from inside the Map Editor.
Updated Map Editor received new tools and features that made it even more complete and powerful than it was before. Automatic resource update mode has been added. This mode allows detecting external changes and updating resources that were changed from outside the editor. Mode supported for textures, materials and meshes. So, for example, with this mode enabled when you add changes to some texture in Photoshop, the Resource Editor can refresh it automatically for you. New add-on system was integrated into the Resource Editor that allows creating and plugging-in of special add-ons via standardized ways.
New tool in Map Editor called Step Movement Tool enables the discreet movement, rotation and scaling of objects, providing the developers with precise and more accurate control over those attributes. Another new tool, the Move Selected Objects to Camera allows to instantly move selected objects to camera position, and the Lock Selected Objects to Camera tool can "lock" and temporarily attach selected objects to the camera, and they will move with the camera. Details about these new tools available in NeoAxis Development Blog.
The Resource Editor received some enhancements as well. Edit mode has new Free Camera mode available, which can be activated from the Toolbar. The Resource Editor camera received new attributes — Near Clip Distance, Far Clip Distance, Field Of View (FOV), which can be changed through Options dialog. The new Refresh button was added to the resource trees. Much like the Map Editor, the Resource Editor also supports new add-on system. Lastly, stability of all tools with invalid textures, meshes and materials was improved.
In NeoAxis 1.2 localization system was significantly improved. The new Localization Server service allows centralizing the translation of the engine and its toolset to the new languages. The service consists of localization server, web-interface and special add-on for the Resource Editor. Localization Server was already used in practice - NeoAxis 1.2 has new languages added: Chinese, Ukranian, Belarusian and French.
Among the other new features it is possible to highlight:
Full support for Intel HD Graphics integrated videocards.
Physics System: Ability to use dynamic bodies with triangle mesh shapes. In addition to convex-hull support, now usual triangle meshes can be used as a collision mesh. Internally mesh automatically divided to many convex-hulls. Developers can configure decomposition parameters in Physics Model Editor.
The official support of new texture file formats, including JPEG 2000, TIFF, GIF, ICO.
Numerous internal improvements for better performance and loading speed.
...many other improvements and bug fixes.
Full list of changes since NeoAxis 1.1 is available in official Changelog section.
Note that starting from NeoAxis 1.2 Team License (Team Indie and Team Commercial) terms have been changed. Now such licenses are limited to 5 developers. If there is a need to use it with more than 5 developers — you should buy two or more licenses. Important: new license terms are used only for new customers, existing owners of Team licenses are covered by the old license terms.
During the development of NeoAxis 1.2 several events took place that we'd like to highlight. First, the NeoAxis Engine was used as the main 3D engine in the staff training simulator for chemical factory in Russia. More details about such usage available in the following Success Story. Second, a new game that was created using NeoAxis Engine recently was released. Elementary My Dear Majesty! is a beautiful casual 3D game in Hidden Object genre. Finally, talented game developers from Japan released a very interesting anime inspired game called Homura Combat, which also was created using NeoAxis Engine. Homura Combat is a third-person shooter game with the ability to freeze time and destructible environments.
Future plans of NeoAxis Group for the engine is to implement support for mobile platforms, such as Android and iOS in first place. NeoAxis Engine already is running well on Android using internal development builds of the engine, so support for this platform can be expected in next update - NeoAxis 1.3. Stay tuned for news and interesting announcements!
Official NeoAxis Engine website
Download NeoAxis Engine SDK 1.2 with included demo maps
About NeoAxis Engine
NeoAxis Game Engine is an all-purpose, modern 3D graphics development tool for 3D simulations, visualizations and games.
About NeoAxis Group
NeoAxis Group Ltd is a company focused on modern real-time 3D solutions. The main activity of NeoAxis Group is the development of NeoAxis Engine, a cross-platform engine for 3D simulations, visualizations and games.