NeoAxis Group announces that NeoAxis Engine and its SDK was updated to version 1.11. NeoAxis Engine is an all-purpose 3D engine for games development, simulations and visualization systems creation. New version includes fixes for bugs that has been discovered since version 1.1, adds Parallax Occlusion Mapping technology and support for Autodesk 3dsMax Design 2011/2012 in Model Exporter.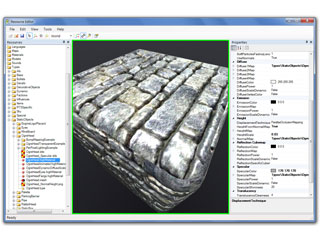 In next versions of the engine NeoAxis Group plans to simplify the import process from different 3d modeling applications, port engine to mobile platforms like Android and iOS, add support for Google Native Client and ability to run projects directly in web browsers using Google Native technology.
Full changelog for 1.11 from 1.1:
Parallax Occlusion Mapping (POM) technology support has been added. POM allows to improve rendering of surfaces using displacement mapping. This is an improved version of Parallax Mapping. POM in NeoAxis for now available only in Direct3D.
Fonts: Font Editor in addition to ability to specify the necessary symbols by intervals, introduced new ability to specify the necessary symbols by string.
Model exporter for 3dsMax: Adds support for Autodesk 3dsMax Design 2011 and 3dsMax Design 2012.
Mac OS X: File handling was optimized.
Mac OS X: Added ability to minimize the application by Cmd+Tab command.
Bug fix: Fatal error during loading of the map with pre-computed fonts.
Bug fix: PhysX initialization error on some Windows systems.
Bug fix: HDR Adaptation effect works incorrectly.
Bug fix: Incorrect loading of symbols when using some TTF fonts.
Bug fix: Mac OS X: After full-screen application minimization music continued to play.
Bug fix: Interface system: Button could remain pressed if during the pressing it become invisible or inactive.
Bug fix: ODE physics: Incorrect work of MeshShape if body contains several primitives.
Bug fix: After the application closure error message could appear: "Fatal: PhysicsWorld: Shutdown: scaledMeshGeometries.Count != 0.".
Bug fix: Editors: Most list editors when you press the Cancel button operated as if user has decided to save changes.
Official NeoAxis Engine website
Download NeoAxis Engine SDK 1.11 with included demo maps
About NeoAxis Engine
NeoAxis Game Engine is an all-purpose, modern 3D graphics development tool for 3D simulations, visualizations and games.
About NeoAxis Group
NeoAxis Group Ltd is a company focused on modern real-time 3D solutions. The development studio is located in Kazan, Russia. The main activity of NeoAxis Group is the development of NeoAxis Engine, a cross-platform engine for 3D simulations, visualizations and games.