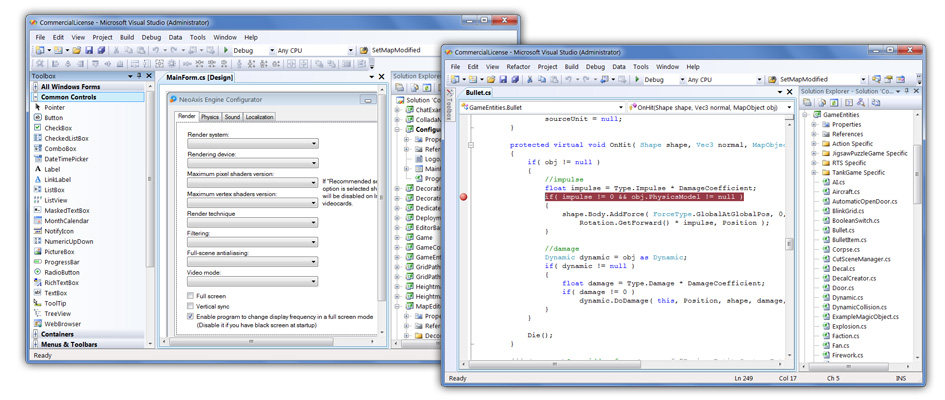 .NET Based API

NeoAxis Engine API has a powerful .NET based API. The main language is C#. The power of NeoAxis Engine and .NET allows you to concentrate on development of the project logic and to receive the greatest speed and quality of development.

In addition to C# support, you can write the code using any languages supporting .NET.

NeoAxis supports .NET 2.0 or later.

C/C++ Support

You can attach libraries written in C/C++ or in any other unmanaged language to the project.

Internally Optimized By Native Code

Internally, the engine uses the power of unmanaged C/C++ components such as rendering, physics and audio for maximal performance.

Some parts of engine specially optimized for SSE instructions.

Ready To Use Framework

SDK includes a ready for use "skeleton" for the project development (Demo), as well as a wide range of code examples for the fast development of project logic. With NeoAxis engine you can concentrate on developing the project logic rather than dealing with low-level tasks, thus decreasing the time of project development and as a result its cost.

Compile Once, Run Everywhere

Compile your project once, and then run it on Windows PC and Mac OS X without compilation for each platform.

Freedom To Choose .NET Runtime

As addition to Microsoft .NET Framework, the engine works perfectly via Mono Runtime, which enables running the engine without using .NET Framework from Microsoft. Mono Runtime is alternative realization of .NET Framework (Runtime, Basic classes). By means of Mono Runtime the engine works on Mac OS X.

Many Supported IDEs

There are several IDE, supporting development in C#.

The following IDE are supported for the development:

We recommend you to begin with Visual C# 2010 Express.